On Easter holidays 2019 it was finally time. Our first visit aboard KIRLANA was imminent.
After Tom had visited the boat and also accompanied the survey, the children and I could now convince ourselves that Tom had made the right decision.
After our deal with Frank and Janine the weather got better and better. And so they sailed or motored our boat from Portimao to Almerimar in Spain. (see also the last blog post)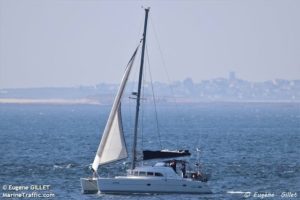 The preparations
Between the survey on March 18, 2019, and the beginning of the Easter holidays (April 15th) were only 4 weeks.
I already wrote about some tasks in the last article. But there were also orders and purchases on site.
Particularly recommendable here was Pieper in Gladbeck. Online you can find some unbeatable prices and in the shop I have always asked for the online price. 😄
Especially funny was the fitting of automatic vests at Pieper.
I had pointed out not to pull on the cord, because otherwise the vest goes off.
Solana went with the vest around a shelf. "Mom, but nothing happens when I pull."
New hint: You would have to pull strongly.
Solana went around the shelf again. Suddenly, I just heard "pfffffft" and "Mom!".
Solana had pulled again. She suddenly decided the vest is uncomfortable. 😄
Very nice – we did not have to pay for the cartridge. That could happen…
Time to pack !!!
Soon, all of this had to fit in the car.
After a while of playing "Tetris", everything was stowed inside.
Small corners were stuffed with jackets and blankets.
Here we go! Let's go to Spain!
On April 13, 2019, we set off towards Lyon at 5 o'clock.
Here should be our first stop.
The plan was to always leave early in the morning and spend the afternoon at an intermediate destination…
In Lyon, we explored the city with the e-scooters of Lime. A great experience!
On April 14, 2019, we left Lyon around 5 o'clock in the morning and made our way to Castellón de la Plana at the Spanish coast.
Again, we spent a nice afternoon.
Instead of a city this time it was the beach. Despite icy cold water, the children took a sea bath.
Finally we made it to Almerimar on April 15, 2019. Arrival: around noon.
Frank and Janine were waiting for us.
The boat was cleaned and we were treated with a warm welcome.
With balloons, champagne and chocolate cake.
Now it was time for a test drive (here you see us arriving in the background again), get to know everything on board quickly and unload the car.
Frank and Janine stayed about 1.5 days to make a good handover with us.
Time for our first repair. The zipper on the lazyjack kept opening up in the middle.
Get a new zipper: 2 Euros
Our first days aboard our catamaran
After Frank and Janine leaving, we continued to set up our boat.
That was a lot of work, but in the end, everything found its place.
It quickly turned out that our neighboring boat was also inhabited by a family.
The Taylor Family took over their Lagoon 420 a week earlier and sets sail at the same time.
Since the children are the same age and immediately understood well, we will probably sail the first months together. In fall we will have to say goodbye as the Taylors want to cross the Atlantic and sail around the world.
As one of our first actions was renaming our boat.
The children watched excitedly from the boat Mokara as we attached the new label.
Our catamaran is now called KIRLANA.
On a full moon night it was silently baptized by us.
At another short sailing trip I unfortunately was VERY sick. We all hope that I can handle this soon!
In the meantime, I did a lot of research and provided aids. I will report!
Here are more impressions from our first days on board …
Kiran practiced dinghy driving and quickly became a small master.
On Easter Sunday we celebrated the first birthday aboard the KIRLANA in rain and wind.
The cake was barely burned and nicely decorated.
It was a challenge, because our oven has no temperature display.
We even had guests from the St. Helena, a Snowgoose 37, the catamaran type we initially favored for a long time.
Pete and Hedwig also brought small gifts. Among other things the little Hasi, a small stuffed bunny.
Unfortunately, the Taylors were already back in England.
One evening a superyacht came into the harbor. Everyone was very excited.
In the hustle and bustle we suddenly heard Solana shouting: "Hasi overboard !!!"
Hasi had fallen out of his pocket.
Kiran responded with lightning speed, shot to his landing net and together we were able to save the bunny floating under our boat. Our first rescue maneuver was just fine. The drift would have driven Hasi out of our reach soon …
At last the bad weather drove us home again.
This time we drove back home in one piece. It took about 24 hours.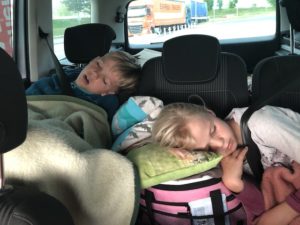 We look forward to our launch in July …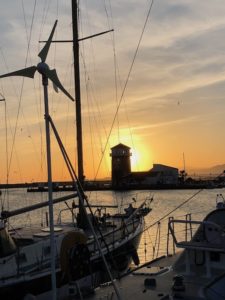 May 2019
Follow us: