The start on a boat is tedious. Much must be bought, cleaned, cared for or repaired.
This has been communicated to us in the past, but nonetheless unplanned tasks are constantly added.
That's what happened right at the beginning on board.
We have two e-scooters, a BMX and a folding bike.
We sent a scooter and our son's BMX by mail from Germany to Spain.
That worked out wonderfully. The BMX's construction ran smoothly.
Kiran was happy to ride his BMX on the pontoon.
But then the rear tire of a scooter was flat.
What nobody (except Tom) knew, the tire is quickly completely broken when flat and you can not mend it.
Ok, lessons learned.
Now we know how to disassemble the tire. Only problem: you can not get the tire off the rim!
So Tom drove to a bike shop.
No, he would have broken off his tool before, according to the mechanic. So he didn't want to help.
What now???
Even as we think about how to change the tire, Kiran comes on board and announces that his rear tire has burst.
How can that be, we ask ourselves. Quickly the explanation is found. On our concrete pontoon are steps that are very sharp-edged on the one hand and on the other hand in some places have protruding metal tips.
Sure, if you jump on it with the BMX, such a tire can burst.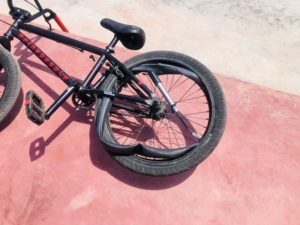 But back to the scooter tire. The idea of driving to an auto repair shop came up.
Good that we still have the rental car …
Ultimately, Tom did not drive to a normal garage, but to a go kart track in El Ejido.
There he found a nice guy named German from Team Pink. He helped Tom to change the tire.
When Tom was back, Solana and I drove around the harbor a bit.
What can I say, on the way back we noticed that the rear tire of this second scooter also felt flat. So we pushed the scooter back. We did not want to break everything.
But too late, this rear tire was broken as well.
So Tom set off again for the kart track. He got lucky.
German was still there and could hardly believe it, when Tom approached him a second time.
Again he helped with the tire change.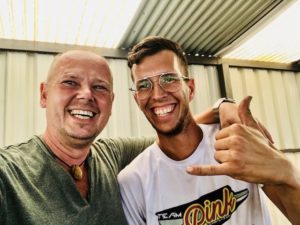 Incidentally, by the way, we have hard rubber tires aboard, in case the tires break again, and also corresponding tools.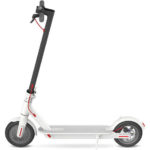 Such unplanned tasks actually appear on board again and again. More about that later …
But this is worth a story of its own. 😉
+++
July 2019, still in Almerimar
Follow us: